JUST FINISHED LISTENING: THE DROP OUT
JUST FINISHED LISTENING: THE DROP OUT
Money. Romance. Tragedy. Deception. The story of Elizabeth Holmes and Theranos is an unbelievable tale of ambition and fame gone terribly wrong. How did the world's youngest self-made female billionaire lose it all in the blink of an eye? How did the woman once heralded as "the next Steve Jobs" find herself facing criminal charges — to which she pleaded not guilty — and up to 20 years in jail? How did her technology, meant to revolutionize healthcare, potentially put millions of patients at risk? And how did so many smart people get it so wrong along the way?
A three-year investigation. Hosted by ABC News' Rebecca Jarvis.

(From https://abcradio.com/podcasts/the-dropout/)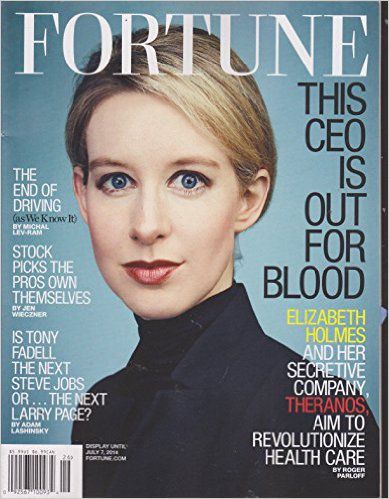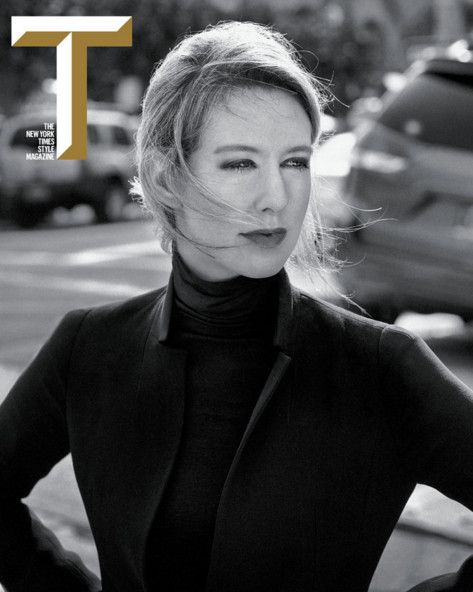 A BIT OF BACKGROUND: I'm going to give away a little bit of information from the podcast here inevitably, but I feel that there's been so much told of Elizabeth Holmes and Theranos that most of this information is pretty well known...
Elizabeth Anne Holmes (born February 3, 1984) is an American entrepreneur and the founder and former CEO of Theranos, a now defunct company known for its unlikely claims to have revolutionized blood testing using surprisingly small volumes of blood such as from a fingerprick. In 2015, Forbes named Holmes the youngest and wealthiest self-made female billionaire in America on the basis of a $9 billion valuation of Theranos. By the next year, following revelations of potential fraud, Forbes revised her net worth to zero dollars, and Fortune named Holmes one of the "World's Most Disappointing Leaders".
FURTHER READING: Holmes's career, the rise and dissolution of her company, and the subsequent fallout are the subject of a book, Bad Blood: Secrets and Lies in a Silicon Valley Startup by the Wall Street Journal reporter John Carreyrou.
RECOMMENDED WATCHING: The HBO documentary The Inventor: Out for Blood in Silicon Valley
TRIVIA: The name Theranos is a portmanteau of "therapy" and "diagnosis."
Holmes admired Steve Jobs, not only for his entrepreneurial style but also his fashion sense and copied his signature look of a black turtleneck sweater.
It has been noted that Holmes spoke in an unusually deep baritone voice. Some people believe that this was not actually her real voice and her voice was a few octaves higher. Her family, meanwhile, has maintained that her baritone voice is authentic.
One of Holmes's first board members was George Shultz, a former Secretary of State.
The 12-member Theranos board eventually included: Henry Kissinger, a former Secretary of State; William Perry, a former Secretary of Defense; James Mattis, a future Secretary of Defense; Gary Roughead, a retired U.S. Navy Admiral; Bill Frist, a former U.S. Senator (R-TN); Sam Nunn, a former U.S. Senator (D-GA); and former CEOs Dick Kovacevich of Wells Fargo and Riley Bechtel of Bechtel.
Theranos' pool of major investors expanded to include: Rupert Murdoch; the Walton family, founders of retail chains Walmart; the DeVos family (founders of U.S. multi-level marketing firm Amway), including Betsy DeVos, who would become Secretary of Education under U.S. President Donald Trump; the Cox family of Cox Enterprises; and Carlos Slim Helú, Mexican billionaire. All of these investors lost tens to hundreds of millions of dollars each when Theranos folded.
In 2015, Holmes was appointed a member of the Harvard Medical School Board of Fellows.
Holmes was named one of TIME magazine's Most Influential People in the World in 2015.
Holmes received the Under 30 Doers Award from Forbes and ranked on its 2015 list of the Most Powerful Women.
Holmes was named Woman of the Year by Glamour magazine.
In 2017, the State of Arizona filed suit against Theranos. The company settled the lawsuit in April of that year by agreeing to refund the cost of the tests to Arizona consumers, and to pay $225,000 in civil fines and attorney fees, for a total of $4.65 million.
On June 15, 2018, following an investigation by the U.S. Attorney's Office in San Francisco that lasted more than two years, a federal grand jury indicted Holmes and former Theranos chief operating officer and president Ramesh "Sunny" Balwani on nine counts of wire fraud and two counts of conspiracy to commit wire fraud. Both pleaded not guilty. Prosecutors allege that Holmes and Balwani engaged in two criminal schemes, one to defraud investors, the other to defraud doctors and patients. After the indictment was issued, Holmes stepped down as CEO of Theranos but remained chair of the board.
The case is U.S. v. Holmes, 18-cr-00258, United States District Court for the Northern District of California and it is set to begin on July 28, 2020. They face up to 20 years in prison.
In June 2019, Bloomberg News reported Holmes and Balwani are looking into a possible defence strategy of blaming the media for the downfall of Theranos. The lawyers are looking into whether journalist John Carreyrou's reporting caused undue influence upon government regulatory agencies in order to write a sensational story for The Wall Street Journal.
A movie based on the book Bad Blood: Secrets and Lies in a Silicon Valley Startup by John Carreyrou is in development, with Jennifer Lawrence in the role of Holmes and Adam McKay serving as writer and director.
An upcoming American television drama series, based on this podcast and called The Drop Out, is in production with Kate McKinnon as Elizabeth Holmes and will premiere on Hulu.
(Information can be found here: https://en.wikipedia.org/wiki/Elizabeth_Holmes)
MY REVIEW: I actually listened to this podcast after I'd seen the brilliant HBO documentary. I find this story so infinitely fascinating that I just felt like I needed to know everything about it. It reminds me of stories of conmen of old who sold the Brooklyn Bridge to tourists, set themselves up famous football players without playing the game or asking people to set sale for a country that didn't exist. Is the example of Theranos any different? That is, I think, the most interesting question, because what it boils down to in the end is; Elizabeth Holmes did want to help. Her idea was a great one and had it succeeded she would have helped millions. But she didn't succeed and this where the con comes in; she told everyone she had. With false claims she rose to the top of influential lists; with only her words and without proof; isn't this the definition of a confidence trick?
I admire her; she became the world's youngest self-made female billionaire with an idea and some backing of impressive people and a whole lot of investment. The question remains for me; can the idea be accomplished or is it an impossible dream, a dream that cannot be achieveddespite the amount of money thrown at it or did Elizabeth Holmes just not have the knowledge to make it happen? Could it be possible in the hands of someone else? With the speed that technology is advancing it could well happen in the near future. Will we have to thank Holmes for starting the venture?
I admire her more almost because she is a woman. People really listened to her, they followed her, powerful men put faith in her. Raising the money that she did, legitimately or otherwise, is an achievement that cannot be quashed even if it is tainted. My only worry now, is that people will be even more suspicious or mistrusting of women in Silicon Valley, which is already notoriously an unfriendly and uninviting place for even brilliant women.
I think that this story could be looked at from many angles and you could argue from all sides, interestingly now Holmes is blaming the investigation into her failing company, by the media, for the company failing. What a round about and topsy turvy concept that is to consider (unfounded I believe) but it speaks to the complexity of this whole saga.
In an age of 'Fake It Till You Make It' is this the cautionary tale of what happens when the universe doesn't deliver on the confidence you put out there?
READ MORE ABOUT UN BELIEVABLE CONS HERE: http://mentalfloss.com/article/57685/8-cons-seem-too-ridiculous-be-true
https://www.themodernrogue.com/articles/2018/1/29/5-people-who-took-con-artistry-to-crazy-new-heights